BDS specializes in total meeting and event planning services, including not-for-profit fundraisers. Quality time is spent with you to understand the mission, specific needs and overall image that must be projected. We give special attention to your budget requirements, fundraising goals, and needs of your organization.
Extensive Scope of Services
Conceptualization: At BDS, our first component of ensuring a first class event is going over the details of the project with you and understanding the goals, objectives and budget considerations. Our team works with you and your team to develop a strategic plan to maximize the objective attainment and overall convenience to attendees. Our comprehensive plan includes:
Identify goals and objectives of project
Create timeline
Identify target market
Create budget
Final Reporting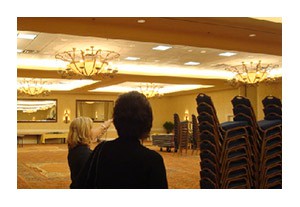 Management: BDS can assist with your project from start to finish, ensuring every detail is covered. All logistical and operational facets of your event can be managed with you or for you. BDS is available to oversee the work of staff, volunteers, and even other vendors.
Post Project/Follow-up: At BDS, quality service and relationships are everything. Delivering the highest quality service is a must, and receiving personal feedback is how we maintain trust and credibility. After each event or project, we provide a complete summary report including thank you notes and a final budget report.

Testimonials
"John and Linda have always been fair and professional advocates for doing the right thing on behalf of their customers and the hotels.  If you are looking for a company that is knowledgeable, passionate, and effective, Black Diamond Summit would be a phenomenal fit for you."
Dzidra Junior, CMP
Director Global Sales
MGM Resorts International

"The job you do for WCOPA is invaluable"  
15-year exclusive planner
Gwen Wilson, President, World Championship of Performing Arts

"BDS' great connection with people and relentless perseverance shows the true character and integrity of the company.  Also, their professional qualifications and conduct allows many positive returns for its clients"
Michael D. Gunn, CMP
Vice President of Convention Sales
Greater Birmingham Convention & Visitors Bureau